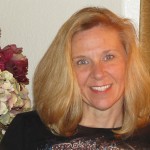 I am an Arizona native of 44 years, growing up in various parts of the state, and settling with my husband in Glendale back in 1986.
Creating has always been a part of my life. My love for sewing began at an early age, while sitting at my mother's feet as she tailored and altered fine garments for clients who traveled the world.  My experience at the sewing machine started at the age of 3, while sitting in her lap as she kept my fingers clear of the needle.  I received my first used sewing machine at the age of 6, and was off and running from that point.
I began to sew for hire in 1994 after leaving the business world, tackling one window at a time for my clients.  One window eventually became whole rooms, and I have had the privilege of working through entire homes.  My training in tailoring has given me an edge in the fabrication process, understanding what it takes to give life to a one dimensional pattern or design idea.  The finishing skills for making garments all translate to the finishing process of a beautifully made window treatment.
My clients often have their own idea, but want a little guidance to fine tune their design and fabric choices.  Many times, these details have been worked out, and they only need my workroom services to bring their vision to life.  Either way, I enjoy the process of assisting them with creating their own personal style in their home.
My newly expanded workroom and studio now affords a broader range of services and products to include fabrics, trims, hardware, custom wood accents. Please explore the site and enjoy.
I look forward to working with you!
Lisa